Coming from a long-time Arsenal fan, this article is not easy to write; but at the same time, if any fan of football today chose to watch Arsenal vs West Ham, you would have seen a pattern like this:
Arsenal take the lead through an attacking move with less than 6 passes (the most common move of scoring a goal, as stated in Inverting The Pyramid) and partly due to an error by the England first-choice goalkeeper, Robert Green. Minutes later, a corner from Robin Van Persie and a simple header by Gallas took Arsenal to 2-0 ahead, despite the Gunners not performing very well against West Ham, in a game where the Hammers needed 3 or 1 point(s) to start moving themselves up the table.
At this point – Liverpool had beaten Man Utd, Arsenal were now 2-0 up against West Ham, at that moment in time – they had 21 points, with a game in hand, hold out for 45 minutes and win the game in hand, they would be top of the table after 10 games.
This would have certainly been interesting – with many "pundits" (and I use the term rarely, as most modern day pundits, such as Jamie Redknapp and Alan Hansen, do not give any tactical explanation or analysis to football) claiming that Chelsea and Manchester United would be the favourites to win the league, Arsenal being on top of the league would have been great for 3 reasons:
1) As an Arsenal fan, this is what, naturally, I would desire.
2) It would baffle those who have a biased view towards Arsenal – they would ponder; how are Arsenal doing so well?
3) It would make for an interesting season.
This is all hypothetical as Arsenal, did not win the game, and now have 19 points – which is no shame, they are still ahead of Liverpool, providing they win their next game, they will be second place, behind Chelsea, who, to be fair, have been flawless so far, no shame in that.
There is nothing major wrong here – there is no silly, scathing attack on Arsene Wenger, this is just a tactical explanation on why Arsenal cannot win the Premier League and why they have not done so for around 4 or 5 years; this should be a guide on football tactical theory and a view on how attacking football does not always work.
We must start with the basis of looking at Arsenal's formation, and how they play as a team; what kind of mentality they have, etc. Based on this we can underline what Arsenal try to do on a football pitch – and the reason why their principles aren't good enough to win the Premier League.
Arsenal play a very fluid (note, not fluid, but very fluid, there is difference from a fluid side such as Manchester United, to a very fluid side such as Arsenal) system, with high creativity among the players – they are free to interchange positions, to roam around the pitch (free role), etc, but there are always 3 players that stay back – in the match today it was Vermaelen, Gallas and Song, the 2 centre backs and the defensive midfielder out of the trio.
Fluid football, with technical players (players with great technique, great first-touch, etc) means Arsenal will always score goals – providing they win their next game, they will have the highest goal difference in the league, and this is from the team that conceded 4 at Manchester City.

However, the quantity of goals depend on a few things – the opposition's defence, the morale of the Arsenal team, the weather conditions, how narrow/wide the stadium is, etc, in the modern game, even technical, scientific coaches like Arsene Wenger have taken account that not all games can be controlled – there is a luck element, possibly bad refereeing.
In the West Ham game today, Arsenal were 2-0 up, with Arshavin, one of the players free to roam around the pitch, certainly had a low morale to him – he was invisible at times during the match, you expect more from an experienced international; it could be that the distribution to him was not enough; the lethargic, but talented Diaby does not have the vision of Fabregas or the increasing composure of Alex Song, Diaby is a box-to-box midfielder, he sees a lot of the ball, and not nearly enough of it was sent to Arshavin today, it was sent to Eboue – who as great as he is, isn't as good as Arshavin.
This is one reason why Arsenal cannot always win – their distribution and decision-making, at crucial times, is poor. If they had 2 Cesc Fabregas's playing (which would have happened, with Rosicky and Nasri nearly as good as the Spanish maestro) then Arshavin would have had a better effect on the game – just ask Liverpool on how deadly the ruthless Russian can be.
With one theorem covered, we now move on that was specific to the match today – the pitch at West Ham's stadium is very, very narrow. This means attacking is harder – if you are confused about this, think about it – is it easier to find space in a big pitch, or easier to find space in a small pitch? Arsenal failed to find space with the ball in the narrow pitch at West Ham – both goals they scored had a touch of luck about them, never-the-less, Arsenal still scored 2 goals out of nothing, something only top, top teams do. The mistake here, is that Arsenal failed to adjust their tactics (as a pundit would say, lack of a plan B), instead of attacking through the flanks (with Eboue and Arshavin, with Clichy and Sagna as the wing-backs), Arsenal should have focused on attacking centrally – when they did, Fabregas and Arshavin had dangerous shots saved from a central position.
Finally, something so frustrating for a long-time Arsenal fan, is Arsenal's full-back problem. This is the component reason on why I feel they cannot win the league – their full backs are not good enough going forward, often teams play defensively against Arsenal; meaning Arsenal will assign around 7 players to attack – Van Persie (central striker), Eboue (right winger), Arshavin (left winger), Fabregas (but also dropping deep), Diaby (occasional runs) and both full-backs – if both Clichy and Sagna deliver sub-par performances going forward, Arsenal will not create enough chances – something that we saw today against West Ham.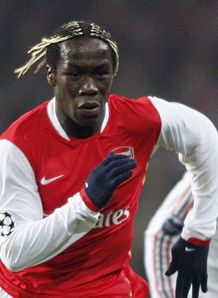 There are positives – there is a better mentality around the team, Fabregas is playing unbelievable at the moment, with Rosicky and Nasri coming back, it does help. Wenger has realised just how important set pieces are – this year they are scoring more from corners and free-kicks than ever, realising that when you aren't playing well and win a cheap corner, then score from that, is called winning ugly, it is what Arsenal have started to do efficiently.